Watch the Calorie Shifting Menu Example Video: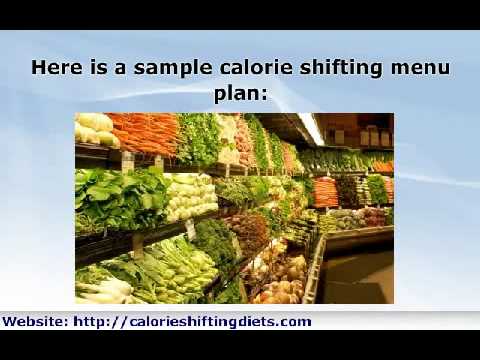 -
Just as promised I will give you some sample
calorie shifting menu plans:
Calorie Shifting is based on the premise that you can manipulate your body's metabolism at will – simply by shifting calories you eat from meal to meal.
Done in the right combination calorie shifting will make your body burn fat.
-
Remember this calorie shifting menu plan was personalized specifically for me and the food choices I made, it will probably look quite different for you. Vegetarian Menu Plans also available.

-

Day 1:
Meal #1:
Meal #2:
Meal #3:
Meal #4:
Day 2:
Meal # 1:
Lettuce, Tomatoes, and Onions are OPTIONAL

Meal# 2, Meal# 3 and Meal# 4:
Fresh Fruit
This is going to cleanse your body in order to prepare your body to start losing more weight.
Day 3:
Meal # 1:
Meal # 2:
Meal # 3:
Meal #4:
Day 4:
Meal #1:
Meal #2:
Meal #3:
Orange Pineapple Smoothie
Meal #4:
Day 5:
Meal #1:
Meal #2:
Meal #3:
Meal #4:
Always drink 8-10 glases of water throughout the day.
You are allowed to eat as much as you want until you are satisfied.
You can swap the order in which you eat those 4 meals at your liking.
You should eat one meal every 3 hours throughout the day.
After 11 days you will get to have 3 cheat days, where you can eat whatever you want to, after that you'll start another 11 days of calorie shifting.

As you can see calorie shifting is quite easy to follow and very satisfying. With the online diet generator, you can choose between several foods, that you like and it will give you then your very own personalized calorie shifting diet plan.
Read more about Calorie Shifting by clicking right HERE.
The main principle is, to group your foods together into meals that are the most conductive to the fat burning process.
Sample Menu Plans calorie shifting, calorie shifting diet, calorie shifting diet plan